22 March 2021 |
Media releases
New modulo 6 automation station for decentralised plants
SAUTER modulo 6 comprises compact, powerful hardware, intuitive cloud-based software, wide integration capability and high data security, thereby enabling IoT in buildings. The portfolio of the modulo 6 product family is supplemented by an automation station for decentralised plants.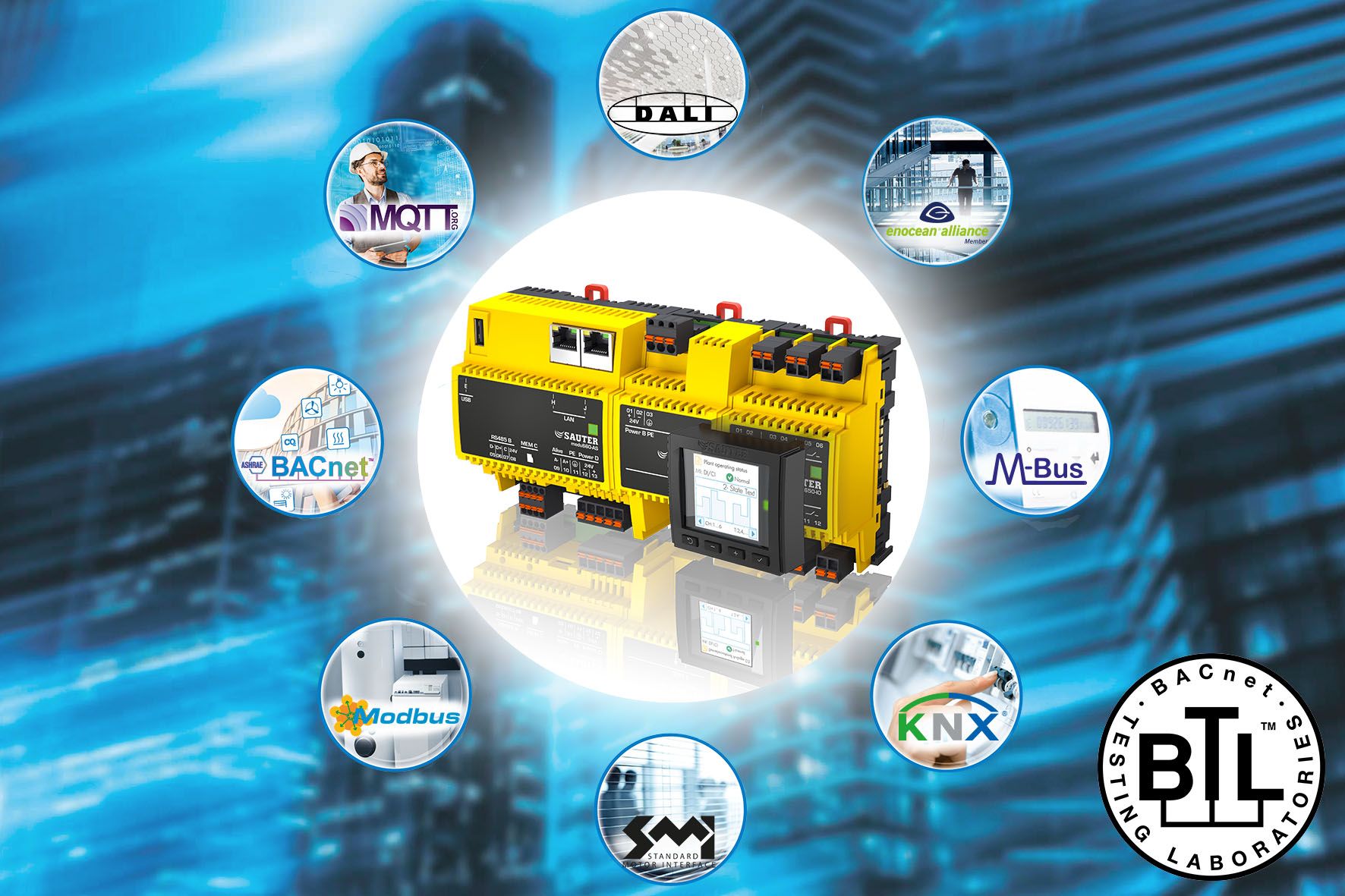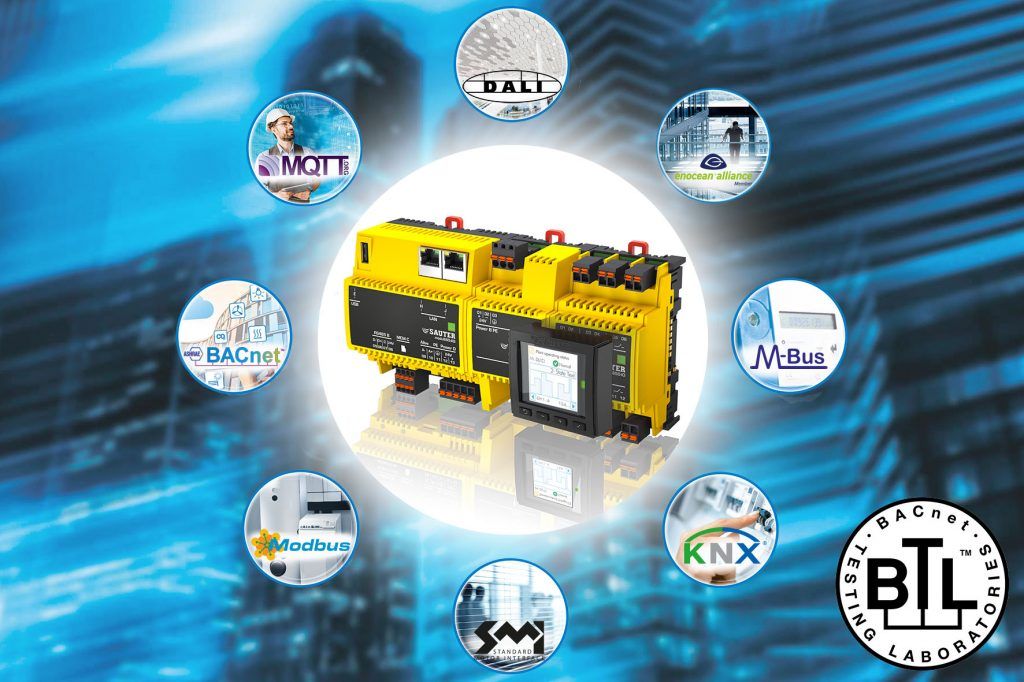 The modulo 6 product family speaks the languages of intelligent buildings.
SAUTER modulo 6 offers thus far unequalled performance in terms of the number of data points per automation station, memory space and processing speed. Its modular structure and the flexibility of the modulo 6 modules provides customised performance at optimised overall costs – from heating and climate control to networked, globally distributed building clusters.
All this fulfils the highest requirements of state-of-the-art buildings. The modu660-AS is a new modular BACnet automation station that is particularly suitable for decentralised plants. In terms of functionality, however, modu660-AS is in no way inferior to modu680-AS.
Tailored to the requirements of decentralised plants
The automation station includes all the integration solutions required for commissioning, operation and communication with plant and room automation devices, or with the management level.
The built-in switch ensures flexibility when creating complex IP network connections. It is possible to connect to a local area network (LAN), create a separate network (daisy chain), or simply connect an operating unit.
Physical input and output signals for measuring and controlling plants are provided via discrete connections or via a field bus. The latter is possible thanks to the modulo 6 I/O and COM modules, which can be connected directly to the station without the need for complex wiring. Further integration options are opened up by the MQTT protocol as well as the REST API interface for quick and easy connection to the building's IoT and with cloud services.
As with its "big sister", moduWeb Unity, the local web server for plant visualisation and alarm management, can also be used on the modu660-AS. Using the Bluetooth interface, values or the status of the I/O modules can be displayed, and their signals can be overridden, via the modulo 6 app. For local priority operation, the
modu600-LO operating unit with colour LCD and 4 push-buttons can be plugged onto each I/O module during operation.
IT-secure, cross-manufacturer networking
The security aspect has been a focus of the development of modulo 6 from the very beginning, and this is also the case with this lean solution. modu660-AS is equipped with the BACnet/IP communication protocol and is thus "BACnet/SC ready".
In accordance with the IEC 62443-3-3 standard, additional security mechanisms are also present. The station is also suitable for combination with SAUTER's blockchain-based Building Data Integrity solution.
modu660-AS will be available globally from the end of May 2021.
About SAUTER
As the leading provider of solutions for building automation technology in Green Buildings, SAUTER ensures good climate conditions and a sense of well-being in sustainable environments. SAUTER is a specialist in developing, producing and marketing products and systems for energy-efficient total solutions, and offers a comprehensive range of services to ensure the energy-optimised operation of buildings. Our products, solutions and services enable high energy efficiency throughout the entire life-cycle of a building – from planning and construction through to operation – in office and administrative buildings, research and educational facilities, hospitals, industrial buildings and laboratories, airports, leisure facilities, hotels and data centres. With over 100 years' experience and a track record of technological expertise, SAUTER is a proven system integrator that stands for continuous innovation and Swiss quality. SAUTER provides users and operators with an overview of energy flows and consumption, and therefore of the development of the costs involved.
The SAUTER Group
Company active worldwide with headquarters in Basel, Switzerland
Founded in 1910, it is built on more than 100 years of tradition and experience
With more than 2,650 employees, it is present and active globally
Complete building management solutions from a single source
Focus: maximum energy efficiency and sustainability
Investment protection and operational reliability over the entire building life-cycle
Technology leader in the building automation and system integration sector
Excellent references available at sauter-controls.com