Building management, Energy management, Facility management…
In the past, these domains were separated and managed by different companies and different software with no common goal. The situation has changed. End users want an integrated solution to optimise the usage of their buildings.
Efficiency in a sustainable environment
Integration
HVAC, lighting, lifts, fire and access control, parking management ‒ more and more of these technical fields must be covered by one single solution. The creation of a BACnet B-XAWS profile (Cross platform profile) demonstrates this strong trend in the building market. SAUTER is the first company that qualifies its BEMS solution reaching the B-XAWS 1.18 profile in a fully integrated building management system.

Optimisation
End user comfort, green building achievements, respect of laws and certifications are key expectations of a well-managed building. At the same time, building managers must continuously optimise costs. Energy costs and operational costs (OPEX) can be easily monitored in SAUTER Vision Center using the energy monitoring module and the integrated maintenance module. Secure user investments (CAPEX) are guaranteed by a permanent update of SAUTER Vision Center, its software (compatibility with the latest Windows operating systems, MSSQL database, LDAP), field levels (highest BACnet certification, OPC UA, MQTT) and alignment with market trends, e.g. mobile apps, responsive design, and third party software integration (API).
---
1. Building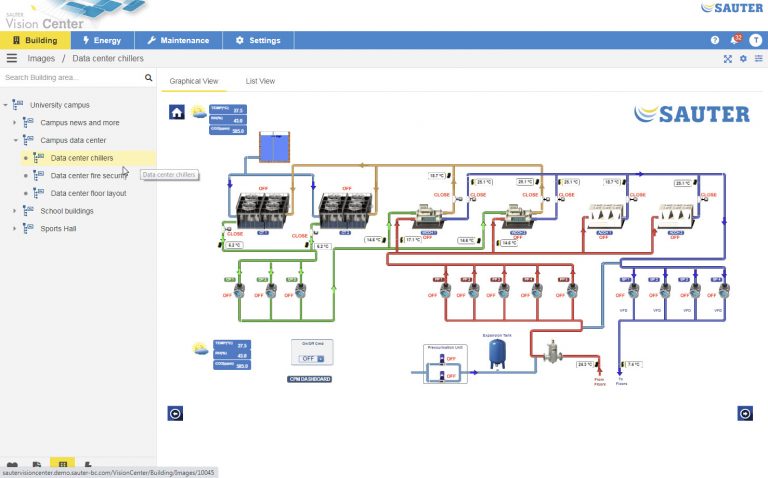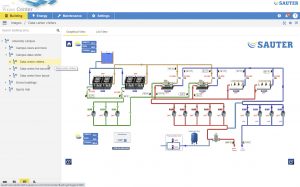 Campus data center chillers in "Building" section
While the standard cycle to update or change the BEMS is around 10 years, devices usually have to be replaced every 15 to 20 years. Therefore, the building management system should take into account a wide range of technology and communication protocols. It is a daily task to connect EY3600 devices to SAUTER Vision Center, but it is also usual to connect the automation station modulo 6 or MQTT devices on the same SAUTER Vision Center.
In the demo version you will find the following buildings and devices:
School buildings with SAUTER modulo 5 devices (BACnet)
Data centres with SAUTER modulo 6 devices (BACnet)
Laboratories with SAUTER ecos504 room automation controllers (MQTT)
The full integrated navigation will allow intuitive searching and finding of standard BMS artefacts such as pictures, charts, objects and alarm lists, as well as audit trail and reports.
2. Energy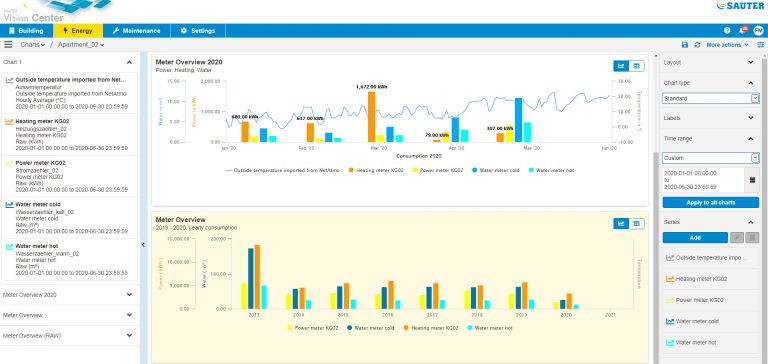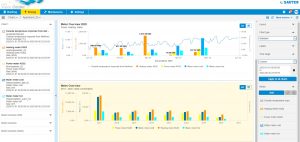 Energy charts
The first step to master the energy consumption is to acquire and monitor meters (measurement concept) and react on over-consumption (alarming). In order to do so, the quality of data is key. Unfortunately, it often happens that data has to be corrected and consequently, recalculations have to be retriggered. Based on basic calculations like global energy, energy costs, and energy per capita energy managers have an overview of their buildings and related energy consumptions.
SAUTER Vision Center allows creating meters, dedicated alarms (e.g. alarm on weekly consumption) as well as basic or advanced calculations. A data manager eases all maintenance tasks like correction of values, importing existing meter values and recalculations.
In the demo version you will find counters, calculations, and energy monitoring artifacts:
School meters
Canteen meters
Global energy and costs calculations
3. Facility & Maintenance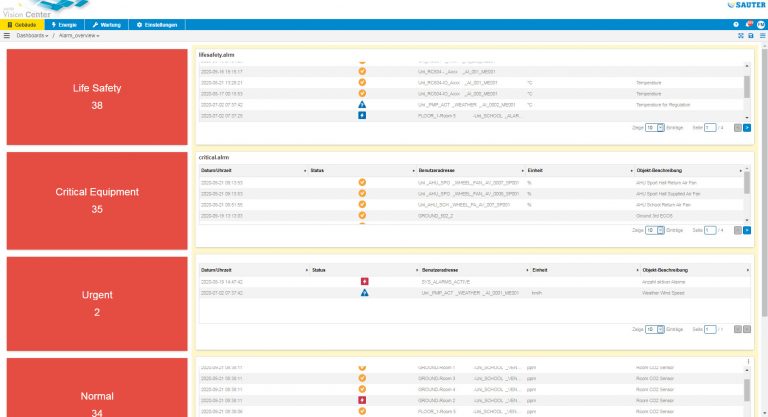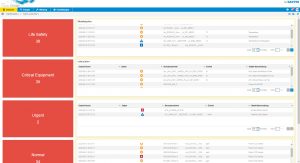 Dashboard: Alarm overview
If equipment or asset maintenance is not a focus topic for the building manager, this can lead to energy over-consumption of about 40% for chillers, 20% for compressors and up to 50% for fridges. As a consequence, costs increase (operational costs, OPEX, is directly related to building maintenance). Proactive maintenance can increase the equipment's life cycle by 10% to 20% for well-maintained equipment which guarantees a higher CAPEX. It also allows for better team management and increases customer satisfaction. Therefore, we introduced a native maintenance module in SAUTER Vision Center.
In the demo version you will find the following maintenance modules:
Asset management to define your equipment
A maintenance plan to define in detail the maintenance actions
A ticketing system to manage your team
Request your account for the demo version
Discover SAUTER Vision Center with our demo version!
Please contact us and you will receive a user account to be able to discover the great and powerful features of our building, energy, and maintenance solution.
For information about product purchase, please contact our national sales organisations.