4 November 2019 |
Media releases
Mobile Building Services – room operation via SAUTER Cloud
Modern smartphone and tablet solutions for apartment, hotel and office buildings are increasingly becoming an integral part of today's construction projects. Planners and owners of modern buildings demand apps that are simple and convenient for users to operate – including from outside the room and the building.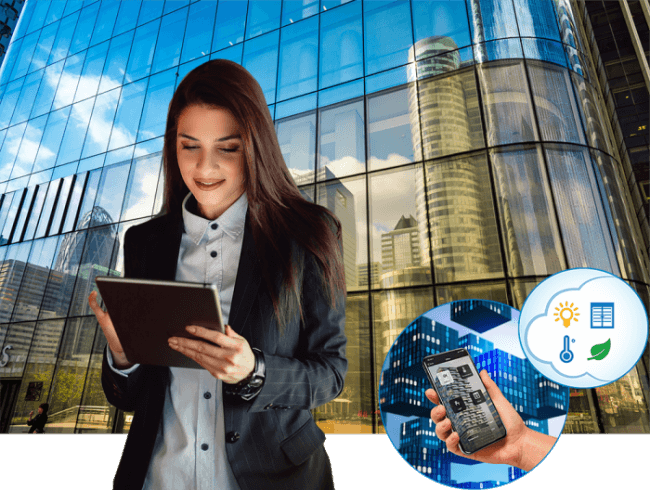 Mobile Building Services (MBS) – a SAUTER Cloud application – combines local building management including integral room automation with room operation via smartphone and tablet. The app controls the building equipment, for example, light, temperature, blinds and ventilation, and displays information such as temperature, air quality and humidity at any time. The solution is perfect for apartment buildings, boarding houses and luxury apartments, as well as hotels and office buildings. Users can operate the rooms via the Mobile Room Control app.
Authentication and secure communication
The Mobile Room Control app – available from the Google Play Store and the Apple AppStore – requires an access code, which is created by the facility manager or property manager for each apartment and sent to each tenant or owner by SMS or e-mail. This so-called "master key" allows immediate and secure access via smart device to the assigned apartment. The access code can be used to allow access to the apartment for other people who live there, as well as to edit these users' permissions via the app at any time.
SAUTER Cloud links smart living and building operation
The SAUTER Cloud's MBS Management application provides authentication and management of room operation with the new Mobile Room Control app. It enables the operator / facility manager to create access permissions for each of the apartments and rooms according to the rental agreements or ownership. This is possible because the access code is created and sent directly from the application. Naturally, the access can be provided with different rights and validity periods, for example to cater in advance for temporary leases or changes of ownership.
At the same time, the management application is the interface between the SAUTER Vision Center (SVC) local building management system and the Mobile Room Control app. This offers the advantage of upgrading existing buildings with mobile building services.
By integrating "indoor localisation" or what is known as geofencing into SAUTER room automation, the smartphone or tablet can be identified inside the building. This means that room control can be automatically assigned to the appropriate users via the Mobile Room Control app. This is particularly useful in office buildings, where the access code for the app acts as a staff badge.
Security through Microsoft Azure
SAUTER Cloud Services, which include the Mobile Building Services application, is based on Microsoft Azure. The Microsoft Azure technology suite guarantees a high level of security and up-to-date functionality. In addition to the excellent availability of a Microsoft computer centre, the encryption technologies ensure the security of the information and convenience features provided to end users outside the local building automation system via the SAUTER Cloud.
About SAUTER
As the leading provider of solutions for building automation technology in Green Buildings, SAUTER ensures good climate conditions and a sense of well-being in sustainable environments. SAUTER is a specialist in developing, producing and marketing products and systems for energy-efficient total solutions, and offers a comprehensive range of services to ensure the energy-optimised operation of buildings. Our products, solutions and services enable high energy efficiency throughout the entire life-cycle of a building – from planning and construction through to operation – in office and administrative buildings, research and educational facilities, hospitals, industrial buildings and laboratories, airports, leisure facilities, hotels and data centres. With over 100 years' experience and a track record of technological expertise, SAUTER is a proven system integrator that stands for continuous innovation and Swiss quality. SAUTER provides users and operators with an overview of energy flows and consumption, and therefore of the development of the costs involved.
Company active worldwide with headquarters in Basel, Switzerland
Founded in 1910, it is built on more than 100 years of tradition and experience
With more than 2,300 employees, it is present and active globally
Complete building management solutions from a single source
Focus: maximum energy efficiency and sustainability
Investment protection and operational reliability over the entire building life-cycle
Technology leader in the building automation and system integration sector
Excellent references available at sauter-controls.com