8 March 2022 |
Media releases
Mobile Building Services: New design for the Mobile Room Control app
Users want smartphone and tablet solutions for individual operation in apartment, hotel and office buildings. Mobile Room Control, SAUTER's room operation app, has been given a new, intuitive look and practical additional functions for room operation and information management.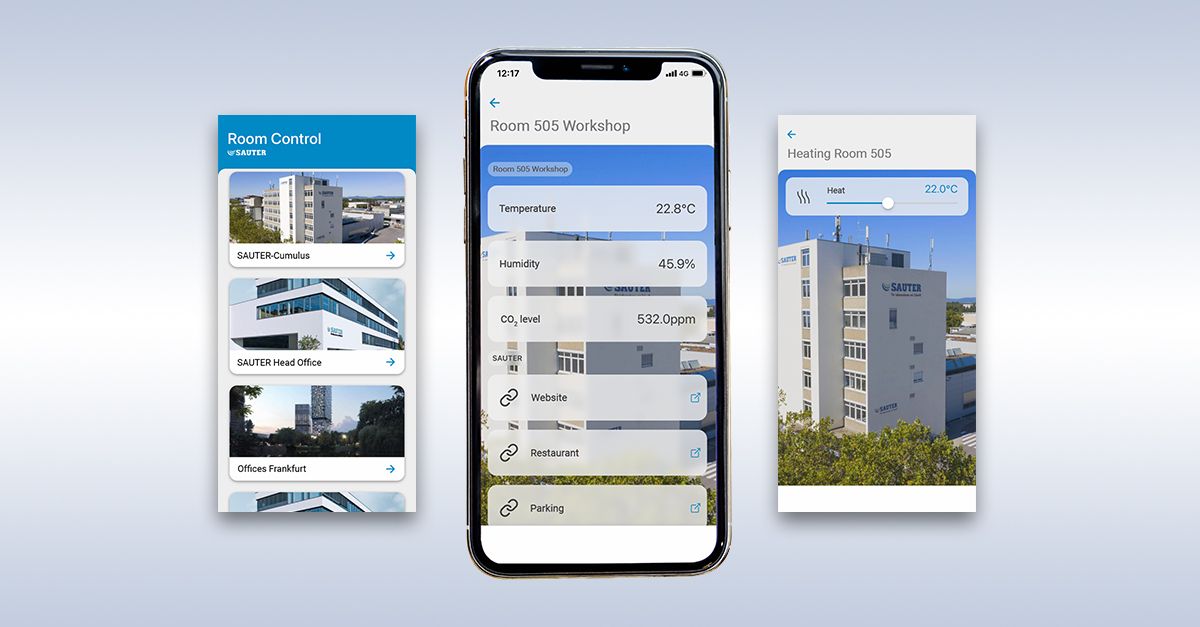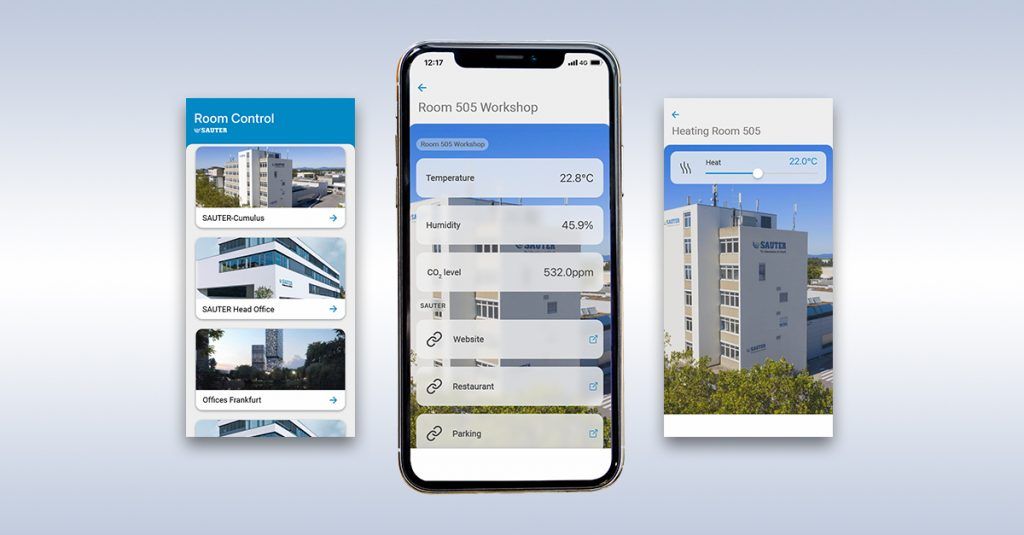 Mobile Room Control app with intuitive design
One of the key requirements of planners and building owners is the intuitive operation and improved user convenience that comes from the use of personal smartphones and tablets (BYOD – bring your own device). But how can it be ensured that room operation is simple and secure at the same time?
Mobile Building Services (MBS), a SAUTER Cloud application, combines local building management including integrated room automation with room operation via smartphone and tablet. It enables the user to control lighting, temperature, blinds and ventilation individually as required. Information on the room climate, such as the temperature, air quality and humidity, is available at all times via the app.
This solution is ideal for all kinds of buildings, such as apartment buildings, boarding houses, hotels and office buildings. Room operation via the app can be individually enabled and also blocked again for users by the building manager. With the Mobile Room Control app (iOS / Android) , employees, building owners, tenants or hotel guests can access the room operation functions and can set scenarios and time programmes. The app can also be used to request information, support and feedback from the building manager.
New app design
The new app design is available with the update in the SAUTER Cloud to MBS version 1.8. Operation on the smartphone follows the familiar operating philosophy of common smart home apps, but also offers direct communication with the building management.
If no control is made via the app, the building management automatically takes over. This automatic function ensures that the building is operated in an efficient and energy-saving manner.
User profiles for access code with iBeacon
For office buildings, there is another useful new function. The user profiles now able to be created can be linked to employee badges. Using iBeacons in the building, each room is automatically identified by the smartphone and the corresponding Mobile Room Control view and operating options are displayed. This ensures that access rights can be matched to user requirements by assigning specific meeting rooms and offices to the corresponding employee badge via the app.
Mobile Room Control App is available in the iOS App Store and Android Play.
Mobile Building Services version 1.8 is available in April. Get in touch with our sales teams.
About SAUTER
As the leading provider of solutions for building automation technology in Green Buildings, SAUTER ensures good climate conditions and a sense of well-being in sustainable environments. SAUTER is a specialist in developing, producing and marketing products and systems for energy-efficient total solutions and offers a comprehensive range of services to ensure the energy-optimised operation of buildings. Our products, solutions and services enable high energy efficiency throughout the entire life-cycle of a building – from planning and construction through to operation – in office and administrative buildings, research and educational facilities, hospitals, industrial buildings and laboratories, airports, leisure facilities, hotels and data centres. With over 100 years' experience and a track record of technological expertise, SAUTER is a proven system integrator that stands for continuous innovation and Swiss quality. SAUTER provides users and operators with an overview of energy flows and consumption, and therefore of the development of the costs involved.
The SAUTER Group
Company active worldwide with headquarters in Basel, Switzerland
Founded in 1910, it is built on more than 100 years of tradition and experience
With more than 2,700 employees, it is present and active globally
Complete building management solutions from a single source
Focus: maximum energy efficiency and sustainability
Investment protection and operational reliability over the entire building life-cycle
Technology leader in the building automation and system integration sector
Excellent references available at sauter-controls.com