1 June 2022 |
Media releases
Sound decisions for plant efficiency with SAUTER Vision Center 7.1
The building management requirements of occupants and operators are constantly changing. To meet these growing demands, SAUTER is continuously developing its software solutions. Holistic building management systems must have three essential characteristics to ensure resource-optimised operation: They should be continuously adjusted to new requirements, be customisable, and have a simple, clear design. For this reason, SAUTER is expanding the Analytics and Energy Management module (AEM for short) in SAUTER Vision Center.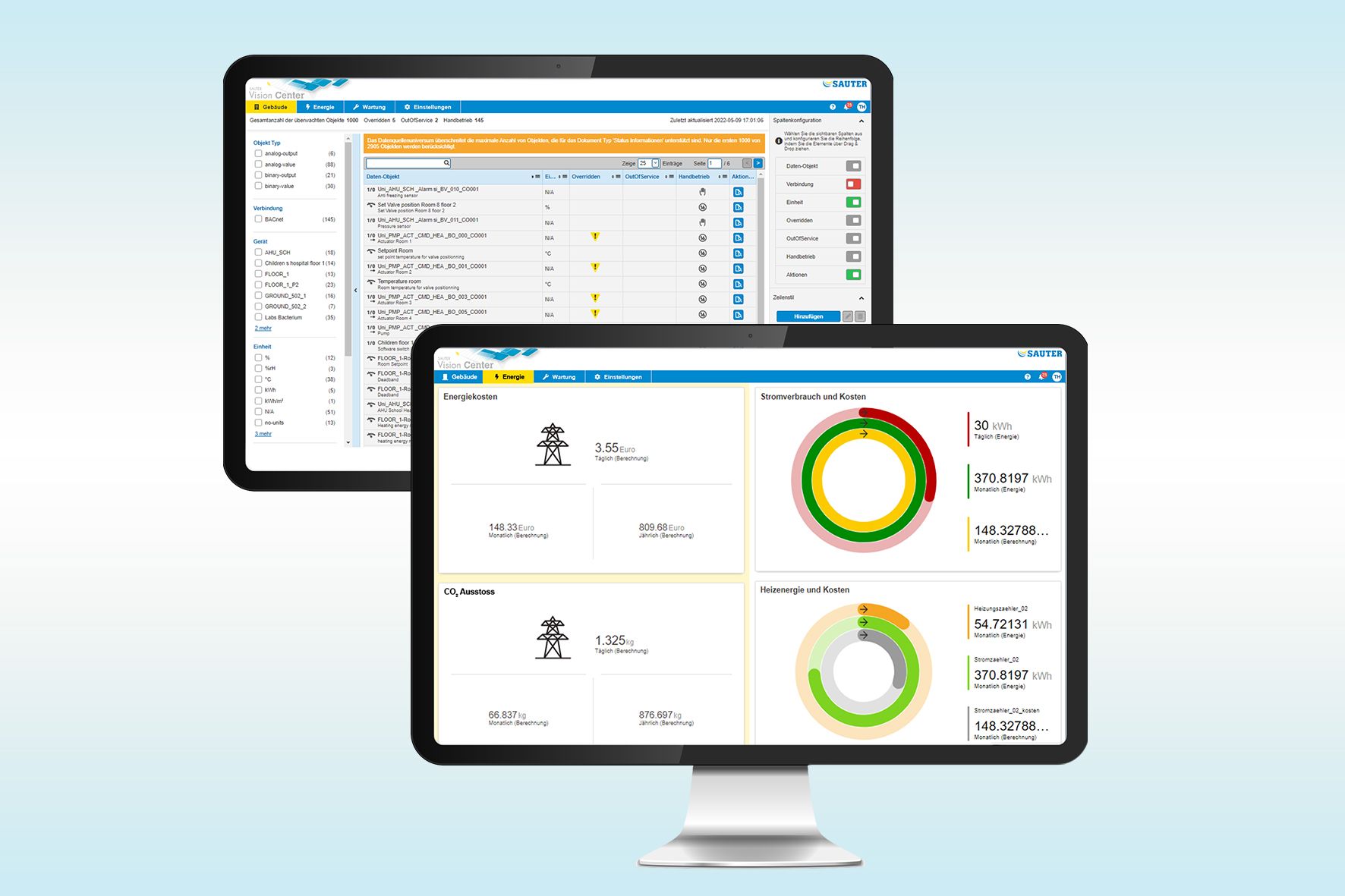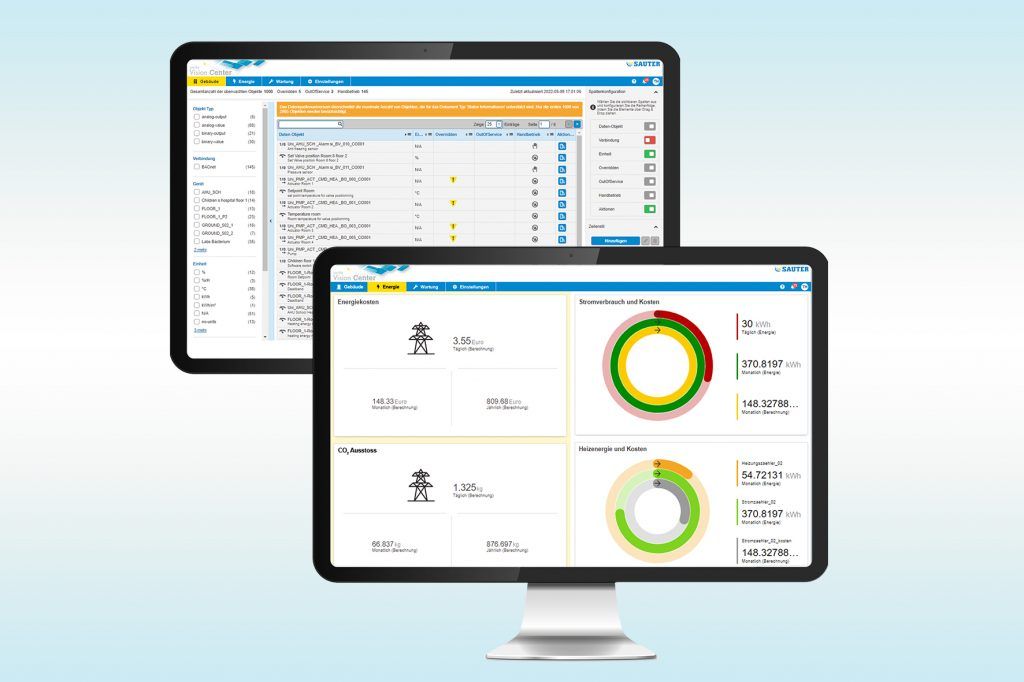 New dashboard widgets and charts for energy management
In addition to lines, step lines, bar charts and pie charts, the new SVC version allows additional energy-specific diagrams such as scatter and carpet plots to be displayed directly in the dashboard. A new feature is the comparison chart, which shows not only current values but also time-shifted values (e.g. comparison to the previous week, month, quarter or year) in the same chart.
A new widget is also available for the dashboard – the speedometer. This widget can be used to display multiple values at the same time in colour-coded form in a 100% area to be defined in the dashboard.
These optimisations and extensions build on the innovations of SVC 7:
Analytics and Energy Management (AEM): This tool provides visual representations such as carpet and scatter plots, but also statistical evaluation options with histogram charts and the optional calculation of the Gaussian distribution.
Object Information Board (OIB): All information about the object is visible at a glance.
New module: Status Information
With the new "Status Information" module, deviations from the automatic operation are clearly listed. Thus, states such as manual operation, "Out of Service" or "Overridden" are easily recognised and clearly displayed. In this way, plant operators can immediately find out which plant switches (objects) have been switched from automatic to manual operation. This means that no settings are forgotten after service calls that require manual operation. These lists are individually configurable and can thus be adjusted to any customer requirements.
SAUTER Vision Center 7.1 supports secure communication and process connection with BACnet/SC.
SVC 7.1 offers the option of establishing a secure connection to a BACnet Secure Connect (BACnet/SC) hub. This allows remote sites to be configured via BACnet/SC with an encrypted connection and a corresponding certificate. Distributed sites can thus be connected directly and securely to the cloud using BACnet/SC.
BACnet/SC extends existing BACnet specification and uses the TLS protocol to authenticate devices in your building automation network and encrypt their communication.
Other important security functions
New criteria have been implemented in the SAUTER Vision Center manager and installation process for IT security and database integration in order to meet more stringent requirements:
Mandatory change of password at first login
Choice of password criteria for SVC Services and SQL database during installation according to IT security guidelines.
Encryption of passwords throughout the system
Definition of a commissioning period
Splitting of SQL database paths for the database and log files (BSI as well as Microsoft recommendations)
API interface for data exchange with AI systems
The API interface can be used for secure data exchange with AI systems in the cloud.
This way, operation optimisation is based on self-learning algorithms for high control accuracy with reduced energy costs and an optimised carbon footprint. The SAUTER autopilot for buildings becomes reality.
SVC version 7.1 is available now. Please contact our sales department.
About SAUTER
As the leading provider of solutions for building automation technology in Green Buildings, SAUTER ensures good climate conditions and a sense of well-being in sustainable environments. SAUTER is a specialist in developing, producing and marketing products and systems for energy-efficient total solutions and offers a comprehensive range of services to ensure the energy-optimised operation of buildings. Our products, solutions and services enable high energy efficiency throughout the entire life-cycle of a building – from planning and construction through to operation – in office and administrative buildings, research and educational facilities, hospitals, industrial buildings and laboratories, airports, leisure facilities, hotels and data centres. With over 100 years' experience and a track record of technological expertise, SAUTER is a proven system integrator that stands for continuous innovation and Swiss quality. SAUTER provides users and operators with an overview of energy flows and consumption, and therefore of the development of the costs involved.
The SAUTER Group
Company active worldwide with headquarters in Basel, Switzerland
Founded in 1910, it is built on more than 100 years of tradition and experience
With more than 3,300 employees, it is present and active globally
Complete building management solutions from a single source
Focus: maximum energy efficiency and sustainability
Investment protection and operational reliability over the entire building life-cycle
Technology leader in the building automation and system integration sector
Excellent references available at sauter-controls.com