23 February 2022 |
Media releases
SAUTER modulo 6: BACnet conformance certificate for all automation stations
Numerous SAUTER products, solutions and services in building management have received certifications and awards. We are pleased to announce that more are following. SAUTER modulo 6 automation stations modu680-AS and the latest addition modu660-AS have recently been BTL-certified.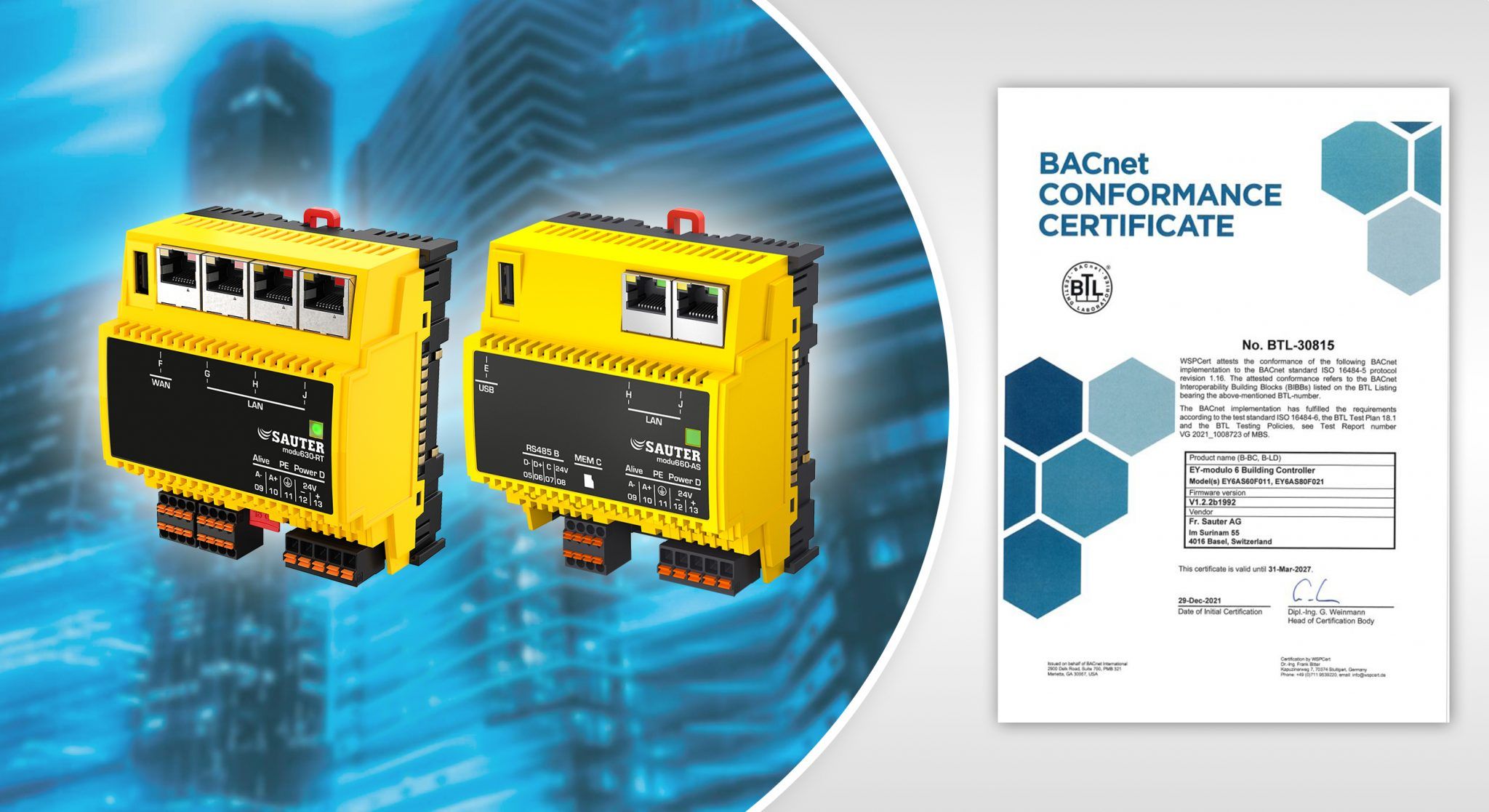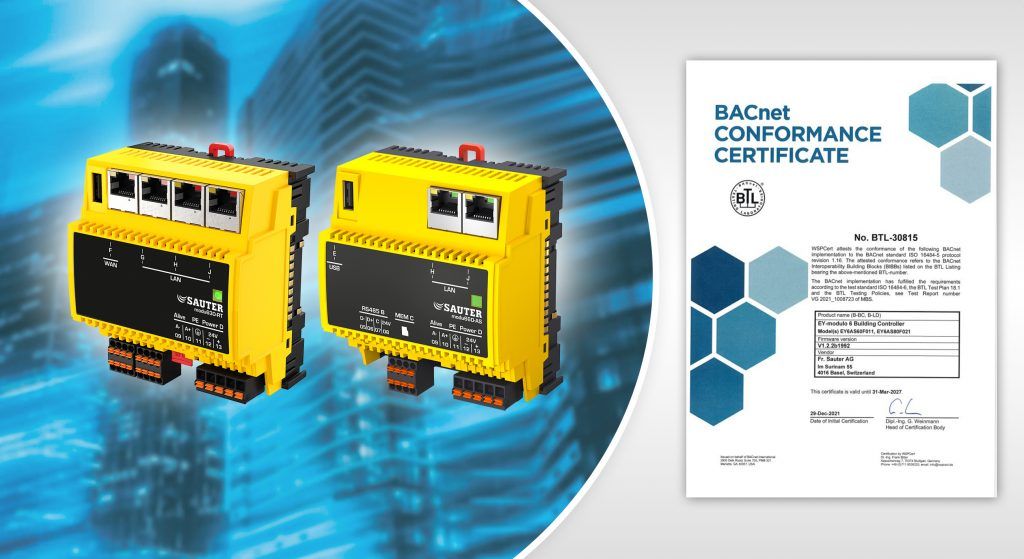 SAUTER modulo 6 is unequalled in terms of performance, data points, memory space and processing speed. The complete modulo 6 portfolio of building controllers is now BTL-certified which confirms that modulo 6 complies with the BACnet standard and ensures highest interoperability and compatibility with other BACnet devices. The two automation stations modu680-AS and the modu660-AS have both been certified as building controllers (BACnet device profile B-BC) as well as lighting devices (new BACnet profile B-LD).
Extended BACnet functionality
The BACnet functionality has been extended to comply with BACnet device profile B-BC and B-LD. These enhancements include
Extended fault detection algorithm: Automatic detection of faulty input signals, e.g. sensor malfunction, without implicit programming effort
Configuration of selective alarm suppression in case of plant maintenance
Service "Alarm and Event Configurable Recipient List" (AE-CRL-B) allows subscription of additional BACnet clients, e.g. operating workstations to the alarm recipients at run time
The new BACnet Lighting Device Profile
The standardised output object set for applications in lighting has long been included in SAUTER devices. It provides enhanced support for a range of lighting applications requiring analogue control, including fading down or ramping up the light intensity, egress control as well as dedicated command possibilities ‒ no programming efforts needed. The new BACnet profile B-LD assures its high level of quality and conformance. The profile also confirms supported interaction with the lighting output object as defined by the service "Data Sharing Lighting Output B" (DS-LO-B BIBB), allowing the operation by client devices supporting the DS-LO-A or DS-ALO-A BIBB ("Data Sharing Advanced Lighting Output A").
BACnet Certification explained
It may be invisible but the BACnet standard is indispensable in building automation. It is the predominant communication protocol in the industry today. Put simply, the protocol defines the rules for data exchange between each HVAC and building automation device. The certification programme of the BACnet Testing Laboratories (BTL) bestows companies with a certificate of conformity (inclusion in the BTL list). The certificate confirms that the range of functions documented is compliant with the standard and the BTL logo indicates this. All BTL-certified products from SAUTER are officially registered at: https://bacnetinternational.net/btl
Download modulo 6 BACnet certificate
Download media release
About SAUTER
As the leading provider of solutions for building automation technology in Green Buildings, SAUTER ensures good climate conditions and a sense of well-being in sustainable environments. SAUTER is a specialist in developing, producing and marketing products and systems for energy-efficient total solutions and offers a comprehensive range of services to ensure the energy-optimised operation of buildings. Our products, solutions and services enable high energy efficiency throughout the entire life-cycle of a building – from planning and construction through to operation – in office and administrative buildings, research and educational facilities, hospitals, industrial buildings and laboratories, airports, leisure facilities, hotels and data centres. With over 100 years' experience and a track record of technological expertise, SAUTER is a proven system integrator that stands for continuous innovation and Swiss quality. SAUTER provides users and operators with an overview of energy flows and consumption, and therefore of the development of the costs involved.
The SAUTER Group
Company active worldwide with headquarters in Basel, Switzerland
Founded in 1910, it is built on more than 100 years of tradition and experience
With more than 2,700 employees, it is present and active globally
Complete building management solutions from a single source
Focus: maximum energy efficiency and sustainability
Investment protection and operational reliability over the entire building life-cycle
Technology leader in the building automation and system integration sector
Excellent references available at sauter-controls.com