27 October 2023 |
Media releases
Product Introduction: Smart Sensor viaSens
Real-time room climate monitoring, communication and status signaling in a single device: SAUTER presents the Smart Sensor viaSens for resource-saving and future-proof room automation.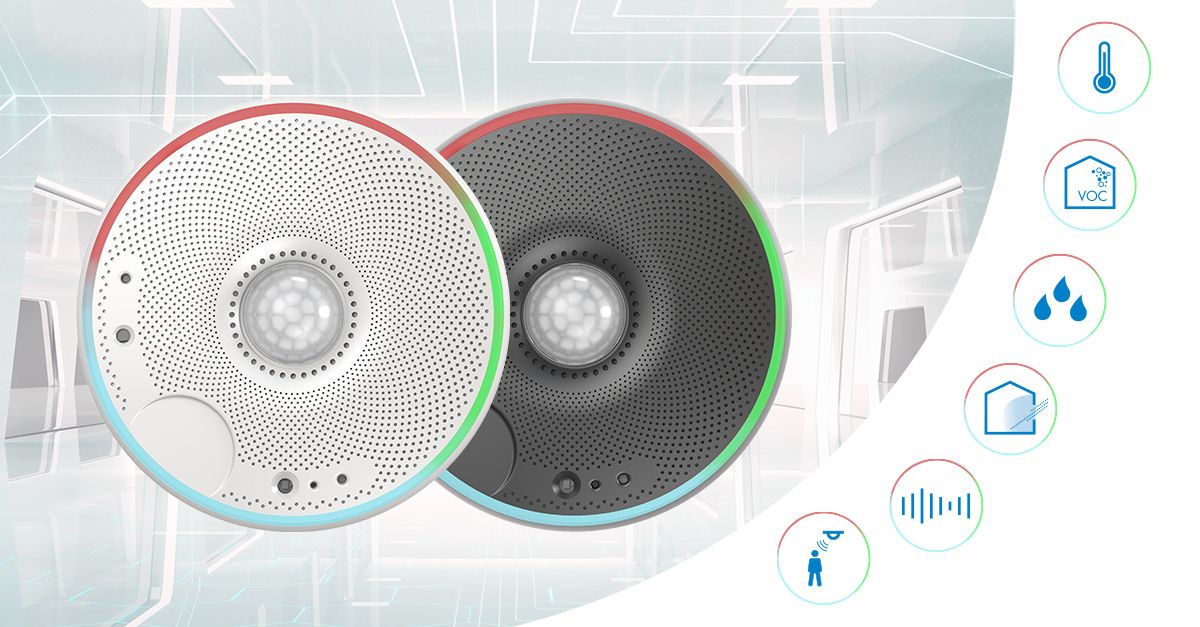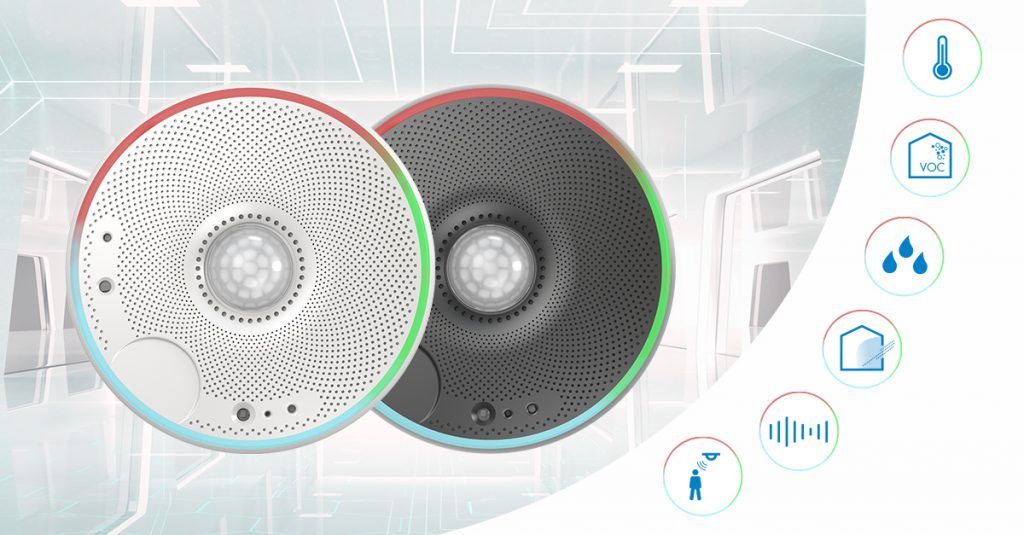 Future-proof buildings are flexible, demand-controlled and smart. Their room automation requires intelligent solutions that react to changes as autonomously as possible and create the right conditions for the intended use. These buildings also rely on comprehensive sensor technology. With the Smart Sensor viaSens, SAUTER is expanding its product portfolio for resource-saving, future-oriented spaces.
Measurement, control, monitoring and verification – sensor technology as the foundation for integrated room automation
The Smart Sensor viaSens combines six sensors in a single device as compact as a conventional presence detector. It measures temperature and humidity, room air quality, presence, brightness and sound pressure level – and allows values to be linked via Sensor Fusion. By monitoring the actual use, the room automation system can then ensure demand-based control of heating, ventilation, air conditioning and lighting conditions.
Deviations from the adjustable comfort zone are indicated by the LED light ring. In conjunction with a room reservation system, the animated LED ring can also be used to indicate the availability of rooms or workspaces. Rooms equipped with the Smart Sensor viaSens can be identified via smartphone thanks to the integrated Bluetooth beacon, which enables individual mobile room control for users.
Easy system integration and fast commissioning
For easy integration into the SAUTER room automation system, the Smart Sensor viaSens features wireless technology. In the Bluetooth mesh network, viaSens sensors (type viaSens116) functioning as mesh nodes transmit the received measured values wirelessly to the sensor gateway (type viaSens196). The gateway acts as the interface to the SAUTER room automation system. Another technical innovation is the Ethernet-based field device communication with the SAUTER automation station. The outward Ethernet interface and internal Bluetooth mesh network make the wirelessly communicating sensors IoT-capable.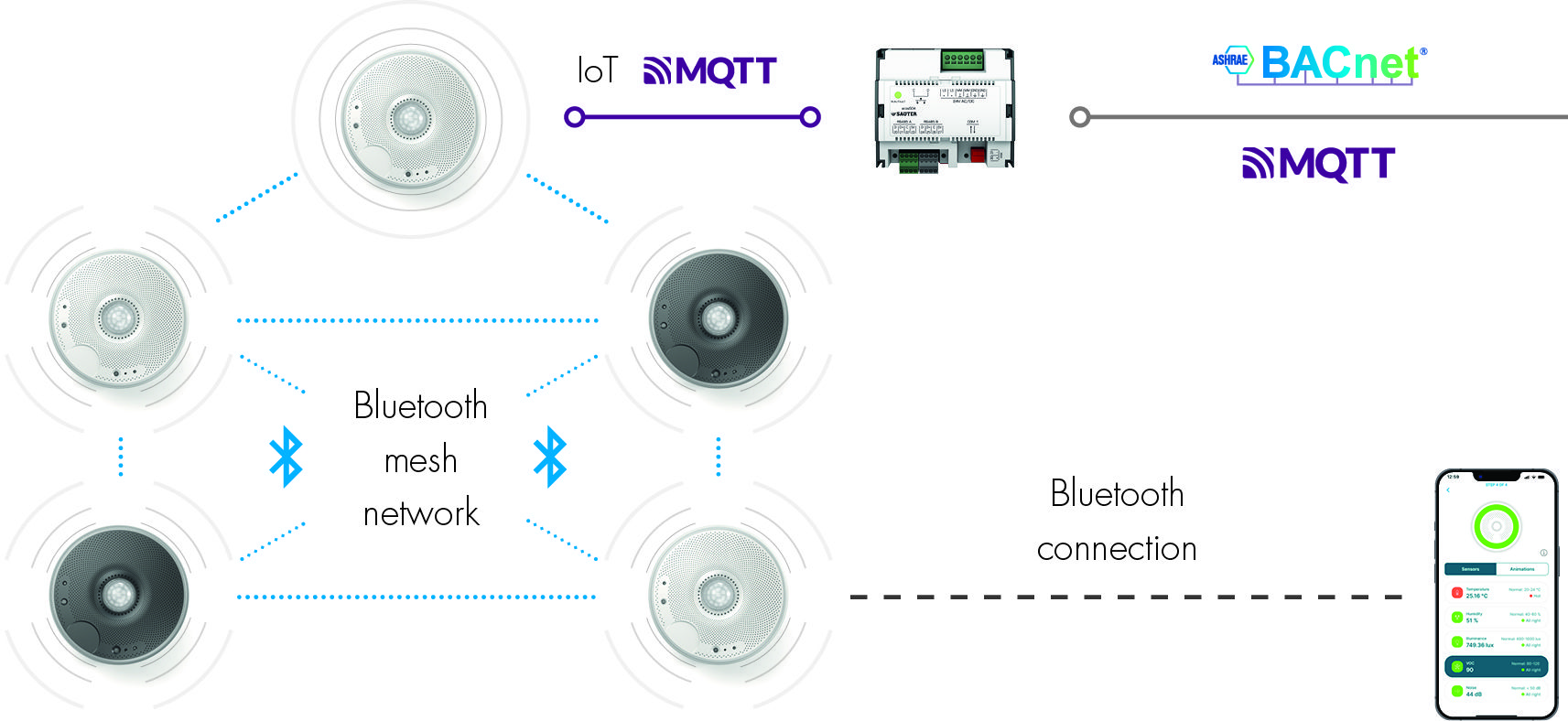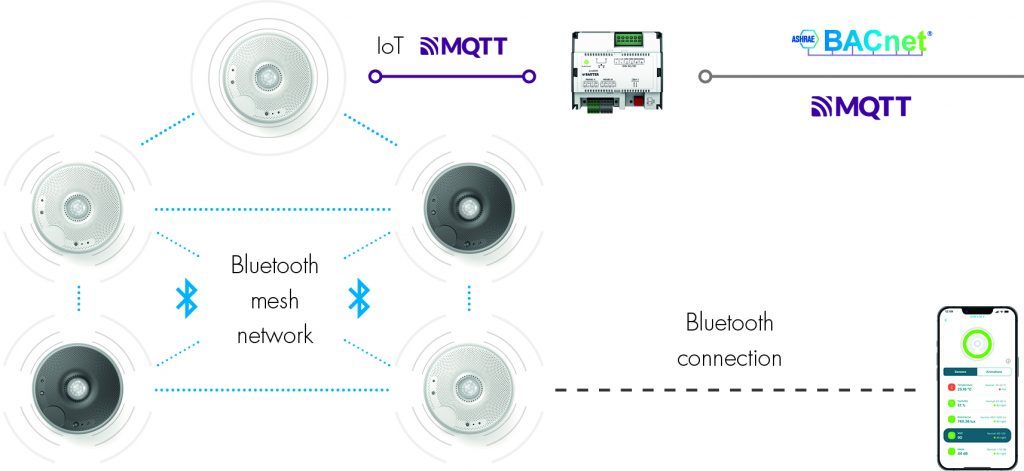 The Smart Sensor is suited for mounting in hollow ceilings as well as for recessed or surface mounting. It is simple to install, with very little wiring thanks to the Bluetooth mesh technology and commissioning app.
State-of-the-art technology in a compact housing: key features
Sensor Fusion: Ensuring a healthy room climate by measuring the most important ambient and room conditions: The Smart Sensor captures temperature, humidity, brightness, VOC index, movement (presence) and noise level.
Multicoloured LED ring: The Smart Sensor provides visual feedback with the multicoloured, animated LED ring. Whether to show room occupancy, air quality or cleaning status, the LED ring can be used in many different ways. Different colours and ring segments can be configured.
Bluetooth mesh network: Building automation system integration with the sensor gateway via MQTT and wireless Bluetooth mesh network, enables real-time monitoring and precise control of the individual rooms without bus wiring.
IoT integration and cloud connectivity: The sensors' wireless IoT network is integrated into room automation systems with MQTT or accessed directly in a cloud application.
Bluetooth beacon: The integrated Bluetooth beacon allows smartphone location within the building as well as selective room operation. Users can make room configurations according to their profile.
Mounting options and commissioning app: The app and different mounting options for hollow ceilings, recessed or surface mounting make installation and commissioning particularly efficient.
With successfully integrated room automation, energy savings and sustainable management are practically guaranteed. In addition, security of planning and efficient commissioning make the Smart Sensor viaSens the foundation for future-proof properties.
The Smart Sensor viaSens is available as of now. Get in touch with our sales department.
About SAUTER
New building, refurbishment or building operation – SAUTER is your reliable partner for sustainability, operational safety and comfort of real estate. With our intelligent solutions for building control, room automation and technical facility management, we safeguard your investment and support you in achieving your ESG goals. We create sustainable environments. Since 1910.
The SAUTER Group
Global company headquartered in Basel, Switzerland
Technology leader in the field of building automation, system integration and building services
Focus: maximum energy efficiency and sustainability
Goal: investment and operational safety throughout the entire building life cycle
Member of the BACnet Interest Group (BIG-EU), BACnet International, EnOcean Alliance and bac