7 December 2022 |
Media releases
modulo 6 modules for Modbus and M-Bus
The modulo 6 building automation system combines building technology and digitalisation trends into a secure overall system. New communication modules for Modbus and M-Bus complement the product portfolio of SAUTER. The modular concept allows up to five modules to be connected, thus enabling the integration of numerous external systems and measurement data.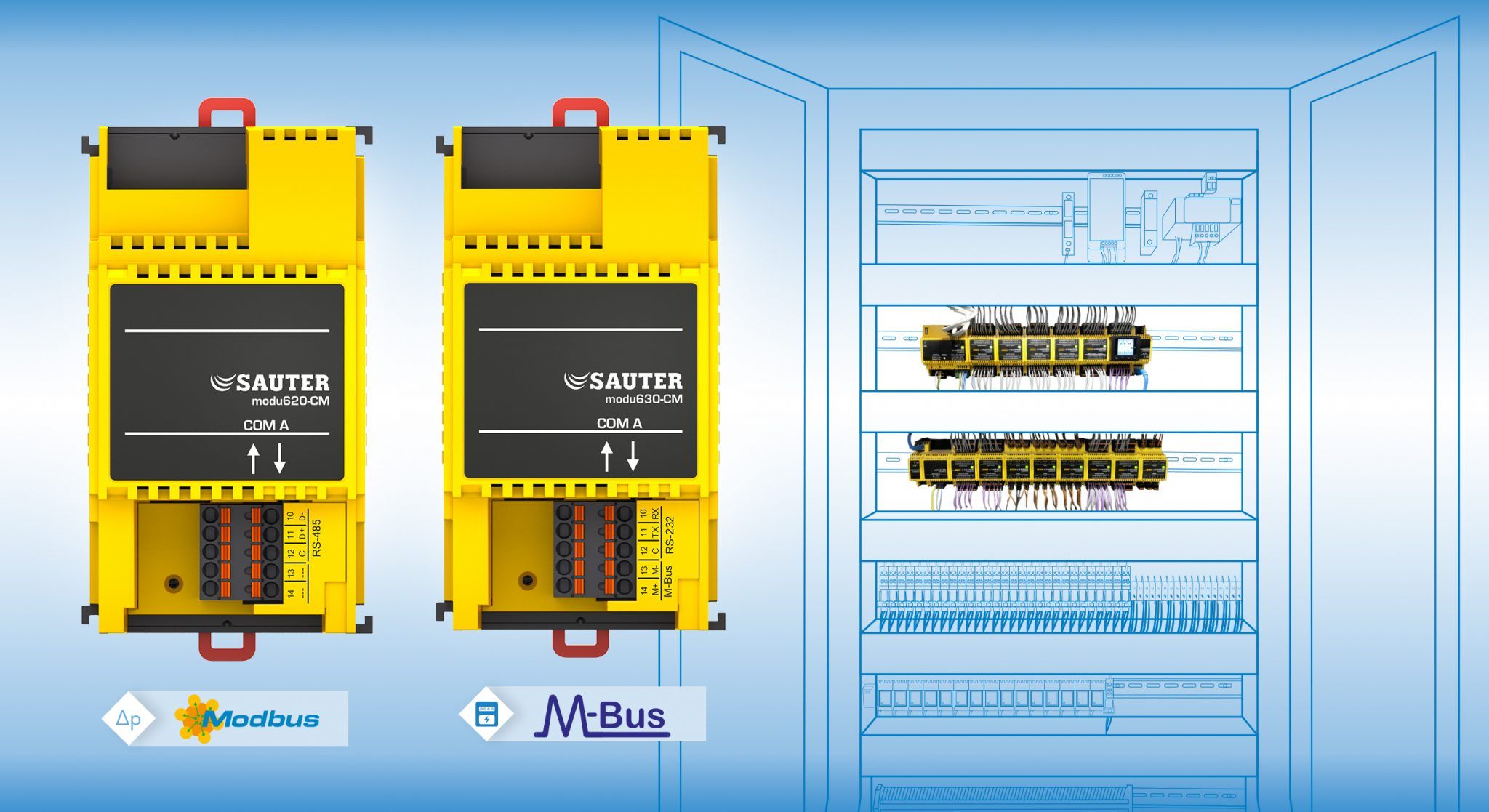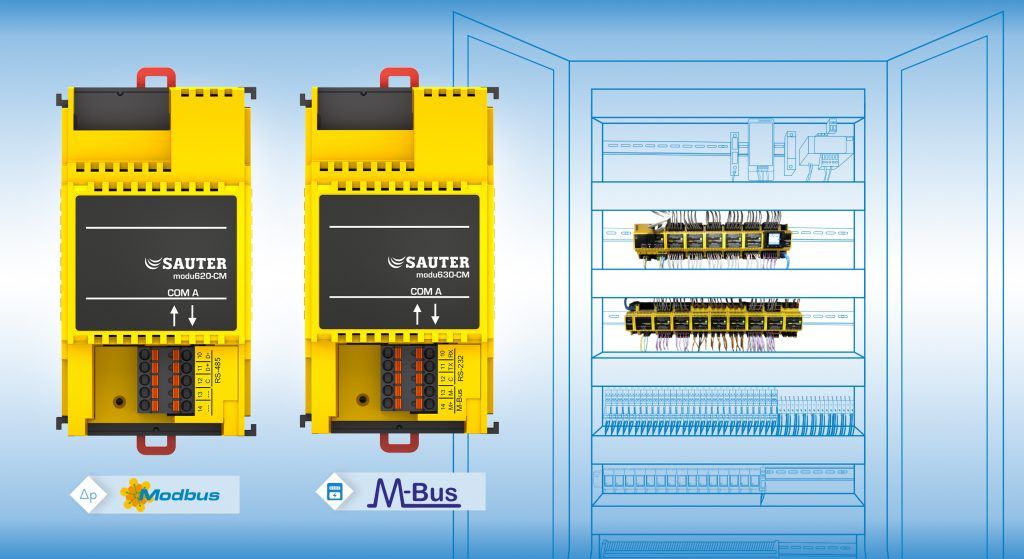 The new modu620-CM and modu630-CM modules are plug-in components for expanding the modulo 6 automation stations. They support the Modbus and M-Bus communication protocols and up to five communication modules can be connected to each automation station.
Systems such as chillers and air conditioning units can be connected using the globally established Modbus communication protocol. The M-Bus module for reading electrical and heat meters supports the operation of up to 80 standard loads. The power supply is ensured via the automation station.
BACnet forms the backbone of the modulo 6 system and with the new modules, all interfaces to the common communication protocols for heating, ventilation, air conditioning and energy are catered for.
modu620-CM: The Modbus/RTU communication module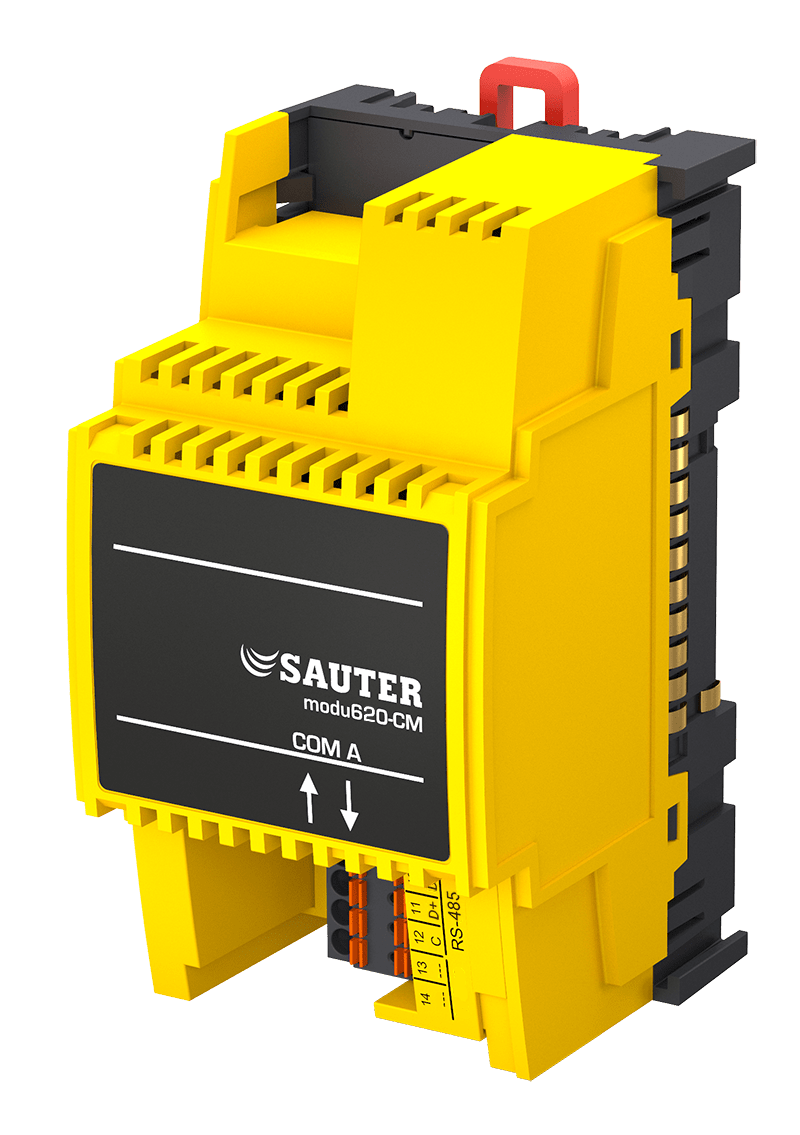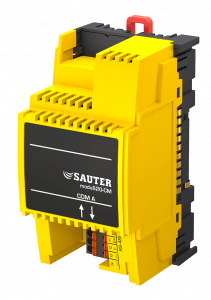 RS-485, half-duplex, galvanically isolated interface for Modbus/RTU, Modbus/ASCII
Modbus master with up to four Modbus communication profiles
Connection to external systems such as PLC, chiller, meter etc.
More information can be found on the product page
 modu630-CM: The M-Bus communication module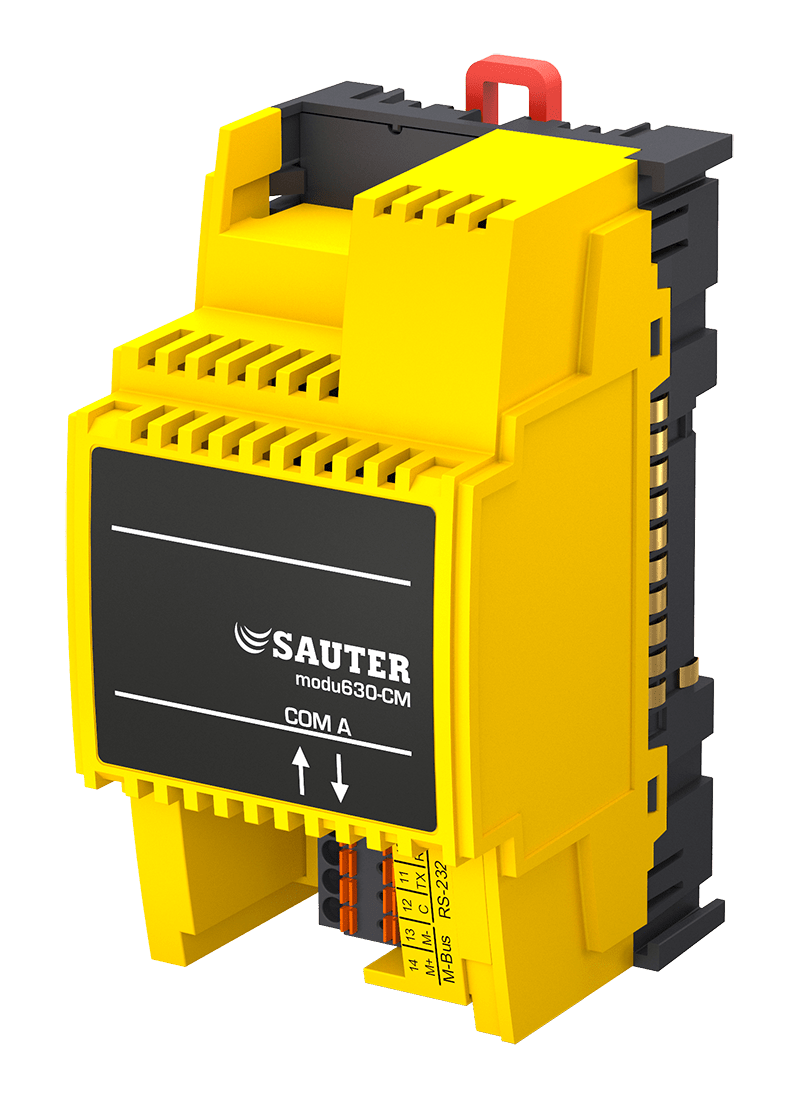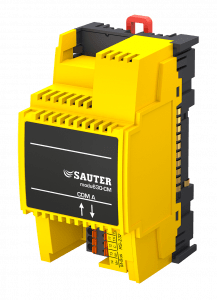 M-Bus (EN 13757-2), galvanically isolated interface and RS-232 point-to-point connections
M-Bus master with up to four M-Bus communication profiles
Connection to M-Bus meter networks for integration of heat meters, electric meters, etc.
More information can be found on the product page
 The new standard in building automation
The SAUTER modulo 6 system generation combines long-established building technology with digitalisation.
It meets the requirements of today's building automation:
Integration of building technology
Impressive performance
Intuitive operation
IoT and cloud integration
Security by design
Investment protection
Building automation provides a comfortable, healthy indoor climate with minimal energy consumption. Nowadays, this does not only require powerful processors and large data volumes but it also has to be user-friendly from an operation and engineering point of view. modulo 6 embeds itself seamlessly into the Internet of Things (IoT) and uses cloud technology. Integrated security measures such as BACnet/SC, network separation, encrypted communication and a data integrity solution using blockchain technology protect the system from IoT vulnerabilities – that's security by design.
The high availability of system components is fundamental to meet today's fast-paced technological trends.  Modernisation of existing systems and efficient commissioning without interrupting operations make a significant contribution towards protecting investments. To this end, many buildings in different sectors have already been equipped with modulo 6.
About SAUTER
As the leading provider of solutions for building automation technology in Green Buildings, SAUTER ensures good climate conditions and a sense of well-being in sustainable environments. SAUTER is a specialist in developing, producing and marketing products and systems for energy-efficient total solutions and offers a comprehensive range of services to ensure the energy-optimised operation of buildings. Our products, solutions and services enable high energy efficiency throughout the entire life-cycle of a building – from planning and construction through to operation – in office and administrative buildings, research and educational facilities, hospitals, industrial buildings and laboratories, airports, leisure facilities, hotels and data centres. With over 100 years' experience and a track record of technological expertise, SAUTER is a proven system integrator that stands for continuous innovation and Swiss quality. SAUTER provides users and operators with an overview of energy flows and consumption, and therefore of the development of the costs involved.
The SAUTER Group
Company active worldwide with headquarters in Basel, Switzerland
Founded in 1910, it is built on more than 100 years of tradition and experience
With more than 3,300 employees, it is present and active globally
Complete building management solutions from a single source
Focus: maximum energy efficiency and sustainability
Investment protection and operational reliability over the entire building life-cycle
Technology leader in the building automation and system integration sector
Excellent references available at sauter-controls.com