7 October 2020 |
Media releases
ecos504/505 room automation stations now with M-Bus interface
A comfortable room climate with minimum energy consumption – this is the aim of building automation. SAUTER ecos504/505 provides a complete room automation solution for your building. The M-Bus interface has now been added to its many communication interface options.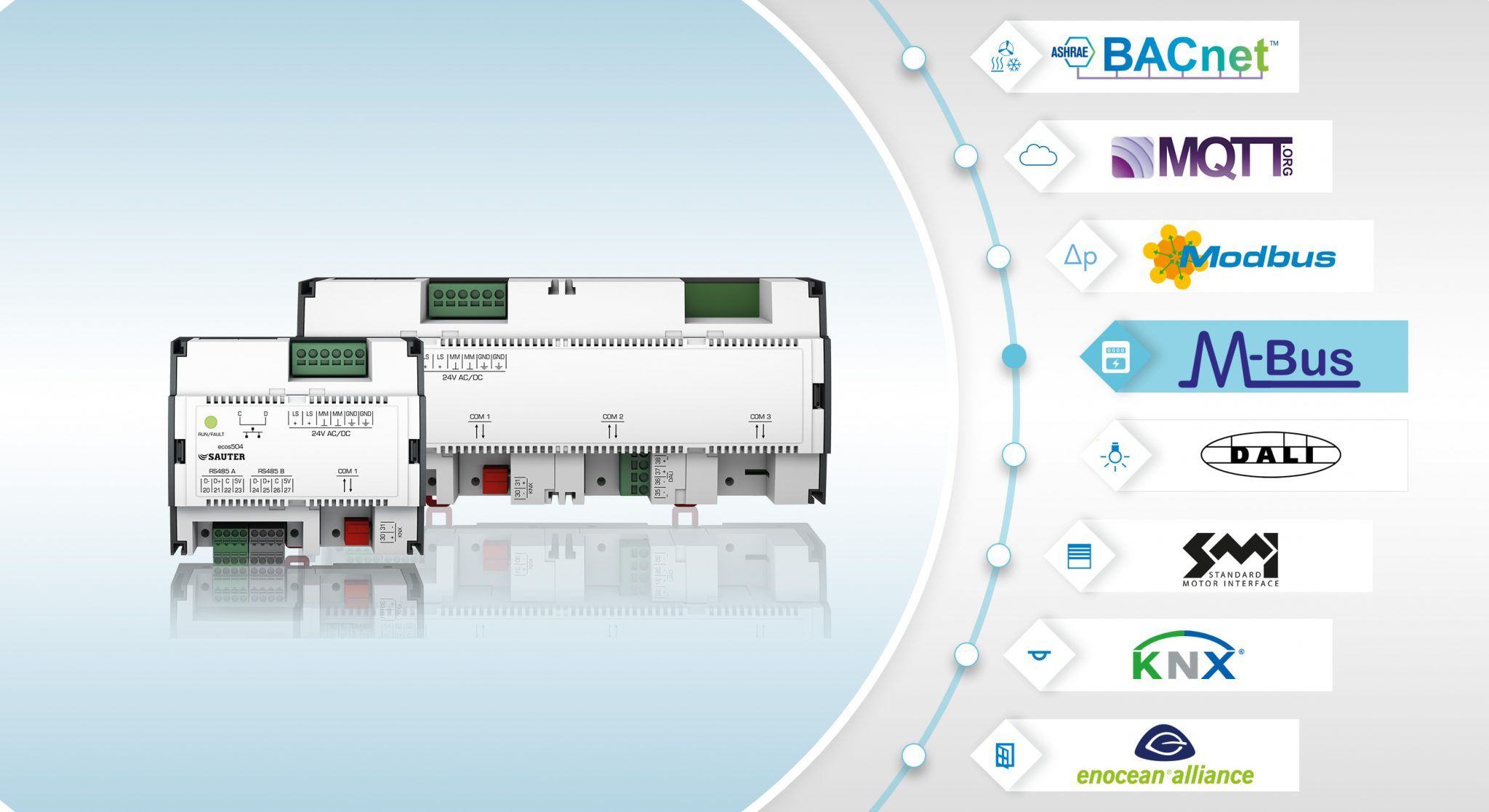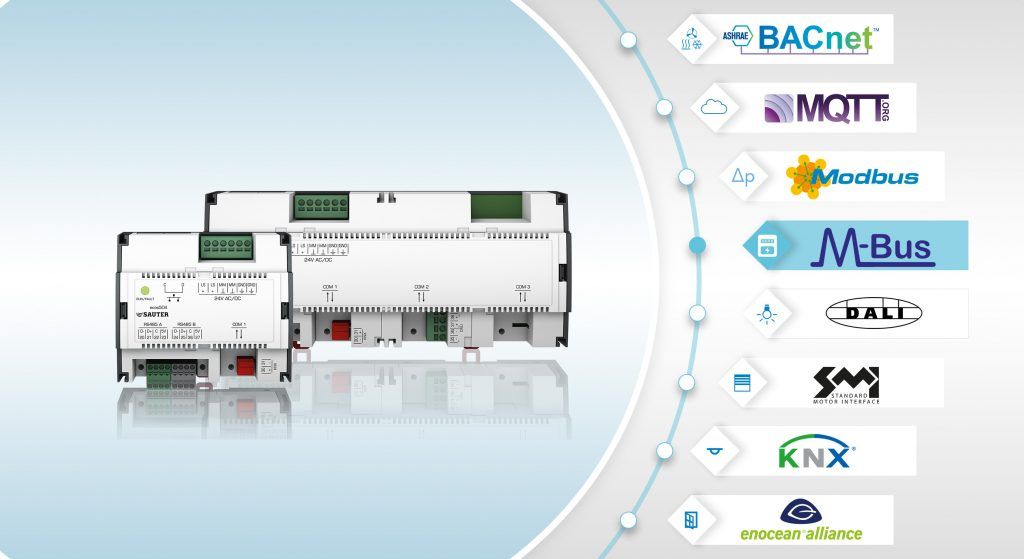 Heat, energy and electricity meters can be integrated via the M-Bus interface.
The two ecos504 and ecos505 room automation stations are part of the SAUTER EY-modulo 5 system family. They integrate room temperature, lighting, and sunshading, thus ensuring seamless room automation.
SAUTER has extended the product range to include room automation stations with a standardised (physical) M-Bus interface and an RS-232 interface. These additions allow M-Bus meters to be connected and their energy data collected. Thus ecos504/505 devices can now also record energy information for room and floor zones. The additional RS-232 interface enables you to connect larger M-Bus networks using an external M-Bus level converter.
The M-Bus communication standard
The "Meter-Bus" communication standard (M-Bus) is one of the oldest standards in the energy service provider and building automation environment. Because manufacturers of heat, energy, and electricity meters make this established standard available on their meters, suppliers of building automation solutions regularly face the task of integrating M-Bus into the system. The M-Bus interface enables energy detection and recording, or energy flow displays for individual building sections or plants.
Seamless, demand-led room climate control
SAUTER ecos504/505 devices are freely programmable BACnet building controllers (B-BC profile). Up to 600 BACnet objects can be used to transmit the collected energy data via BACnet to a management and operating level such as SAUTER Vision Center.
Apart from BACnet, the ecos room controller range already had many digital communication standards for the integration of all equipment systems in office buildings, hotels, hospitals, schools, shopping centres etc. Touch-panels, KNX actuators, and sensors can be networked via KNX. The DALI interface allows lamps, presence detectors and light sensors to be integrated as per the DALI-2 specification for presence-dependent lighting or constant-light control.
The SMI interface controls electronic motors for sunshading systems (blinds or roller shutters). EnOcean room operating units and window contacts, switches and other devices from third-party manufacturers can also be integrated. The Modbus interface also enables valves for dynamic hydronic balancing to be integrated in the room.
About SAUTER
As the leading provider of solutions for building automation technology in Green Buildings, SAUTER ensures good climate conditions and a sense of well-being in sustainable environments. SAUTER is a specialist in developing, producing and marketing products and systems for energy-efficient total solutions, and offers a comprehensive range of services to ensure the energy-optimised operation of buildings. Our products, solutions and services enable high energy efficiency throughout the entire life-cycle of a building – from planning and construction through to operation – in office and administrative buildings, research and educational facilities, hospitals, industrial buildings and laboratories, airports, leisure facilities, hotels and data centres. With over 100 years' experience and a track record of technological expertise, SAUTER is a proven system integrator that stands for continuous innovation and Swiss quality. SAUTER provides users and operators with an overview of energy flows and consumption, and therefore of the development of the costs involved.
The SAUTER Group
Company active worldwide with headquarters in Basel, Switzerland
Founded in 1910, it is built on more than 100 years of tradition and experience
With more than 2,650 employees, it is present and active globally
Complete building management solutions from a single source
Focus: maximum energy efficiency and sustainability
Investment protection and operational reliability over the entire building life-cycle
Technology leader in the building automation and system integration sector
Excellent references available at sauter-controls.com