Cyber resilience for buildings
Building automation systems are traditionally concerned with the control of heating, ventilation and air conditioning, as well as lighting and shading. They have their origin in a time when proprietary solutions were in place and cyber security concerns of an interconnected world were a matter of moderate interest.
Today, the IoT represents one of the most incredible opportunities for building automation thanks to its openness, ubiquity and multiplicity of solutions. On the downside, it can represent a threat for the very same reasons: The surge in the number of services and applications has equally increased potential cyber security breaches and access to networks and infrastructure systems. Therefore, building automation systems must integrate security-critical services, formerly provided by other subsystems, and new devices need to be secure by design.
Inspired by the International Electrotechnical Commission's holistic approach to cyber resilience for industrial automation control systems, and the tools they have set in place such as ISO/IEC 27001 and IEC 62443, SAUTER develops solutions to help achieve and preserve high cyber security levels.
Building Data Integrity by SAUTER
The modulo 6 product family integrates, among other technical solutions, encryption of web communication (HTTPS), separation of networks due to two distinct network interfaces (WAN/LAN) and a configurable firewall. Access control, user identification and an audit trail are also provided. However, cyber security is in a continuous state of evolution and security solutions must continuously be improved and extended.
SAUTER has developed a completely new concept to protect the data integrity of automation stations from the modulo 6 family, featuring: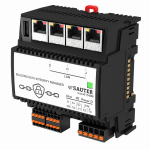 patented blockchain technology
monitoring of the data integrity of each station
detection of unintentional or intentional data alterations
notification in case of data integrity breaches
immediate restoration of the original dataset
Your installation benefits from an additional layer of protection, intrusion detection as well as a rapid reaction and restoration of operations.
The modu615-BM, or Building Data Integrity Manager, provides a local solution for data integrity supervision in the plant. It has an integrated web server for local commissioning, visualisation, operation and notification.
The SAUTER Blockchain Ring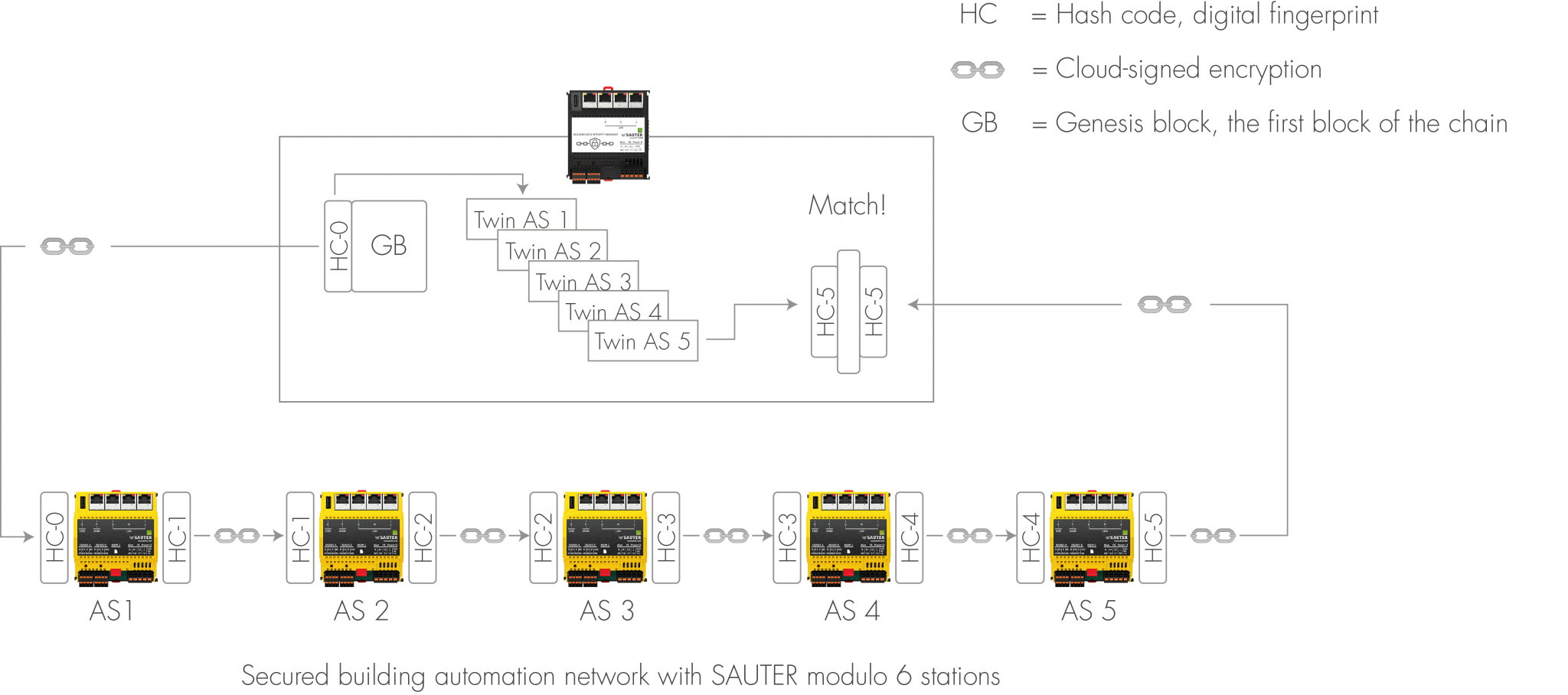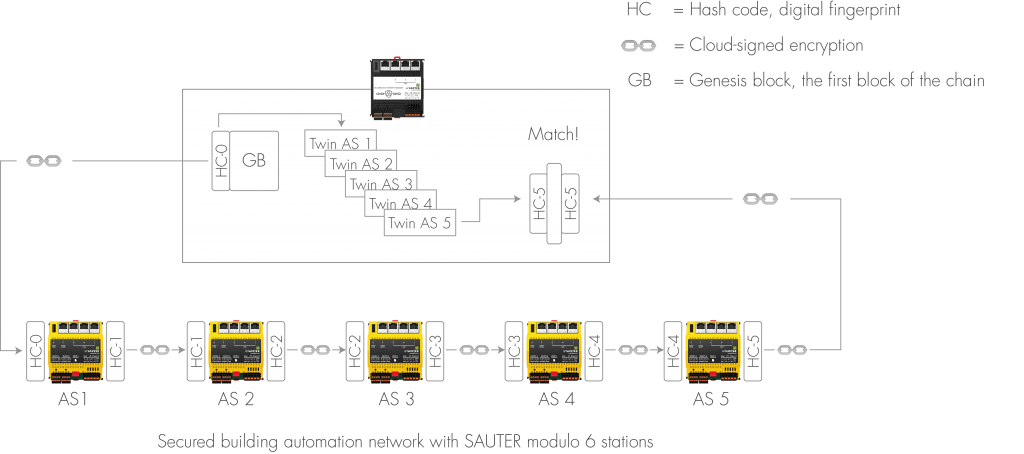 A guided configuration process (wizard) creates the blockchain and starts the integrity check. Data from the automation stations are linked in the building network to form a blockchain ring. The current process and the state of the blockchain can be viewed at any time in the dashboard. An e-mail notification is sent in case of integrity violation. The affected automation station is first isolated, then automatically restored, and finally reintegrated into the building automation network. Proven security technologies provide encryption, authentication and access protection. This means that the system is already well protected against cyber attacks at the automation level.